Digital tools have had a significant impact on construction project management. Software that manages construction has revolutionized our industry, from scheduling to construction financials to field management and much more. Let's take a look at some of the tools commonly used by general contractors (GCs) and construction Project Managers and the best practices for getting your tools to work together.
Construction accounting management software
Construction accounting management software is a must-have in the construction industry today. Those who can't commit to a cloud-based solution will likely use spreadsheet-like software to track budgets, budget changes, actual expenditures, change orders and more. Outdated accounting or ERP software can't effectively manage construction costs. These solutions often result in poor data integrity, the need for multiple versions and no real control over the data. All of which negatively impact the insights needed for business decisions. The good news is that affordable solutions will allow you to tighten up your accounting management. Integratable, simple to use, and well-supported options are at your fingertips.
Real-time communication platforms
Collaborative tools allow everyone to work together regardless of their location. Some of the most common are email, text, phone calls, instant messaging, etc. However, keeping track of communication handled with these tools is nearly impossible. It's essential to consider a construction management software that offers features to collaborate on task assignments, form accessibility and the ability to keep your entire project connected from beginning to end seamlessly. Your construction management software should offer you a mobile app with the ability to track jobsite progress, share general project updates and effectively manage necessary collaboration and coordination.
Real-time communication allows for a tighter project schedule because you can share information instantly with team members and clients—create, assign and schedule tasks based on priorities—analyze paths to speed up or otherwise adjust project timelines and more.
Centralized document and financial management
The new(er) kid on the block, cloud-based construction management software, is a solution that provides workflows to manage every facet of construction and real-time information sharing between field and office teams. The relevant data is always available and saves your team significant time and confusion. Deliver projects on time and on budget by keeping the whole project team on task and organized, while avoiding miscommunication and the possibility of rework.
Integratable construction accounting and project management software
Your project managers require project-related financial information to make decisions. Without integrated accounting and construction management software, PMs need to contact your accounting team for up-to-date information. By adequately integrating your construction accounting software with your construction management platform, you avoid costly delays by allowing your operations and accounting teams to stay in their respective software while sharing real-time data between the systems.
How to determine the best construction management software tool 
Construction management software tools aren't a one-size-fits-all solution. It's crucial to identify the unique pain points for your company to focus on the priorities that require more attention. This will also guide the discovery process as you look for essential features like:
Employee

time and expense tracking

Robust reporting and dashboards

Automation features

Task status tracking

Mobile app availability

Budget management

Contract and change management

Progress reporting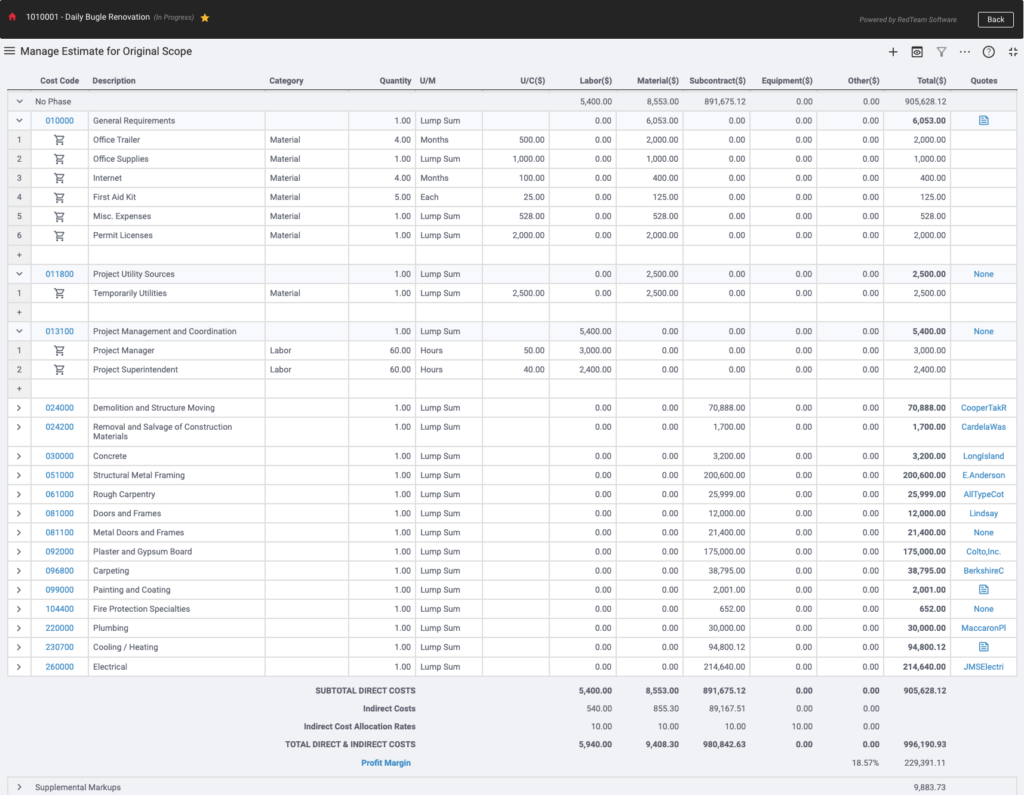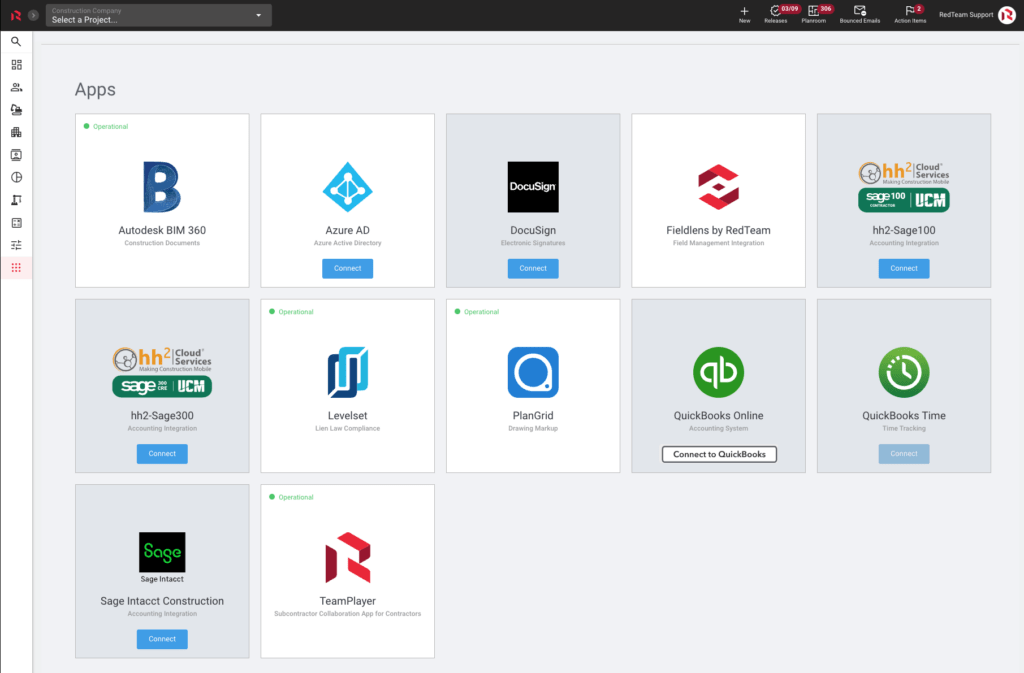 When using multiple tools for construction project management, be sure that the tools can work together seamlessly. This removes frustration and workflow interruptions—the goal is for the tools to improve efficiency and enhance productivity
Taking enough time during discovery increases the likelihood that you'll find construction project management tools that work best for your company while being compatible with each other. Finally, consider the option of using a comprehensive construction management platform that allows for optimal efficiency and total project control.
We invite you to watch a demo of RedTeam's solutions and see how we can help provide you with the very best in construction project, accounting and field management.